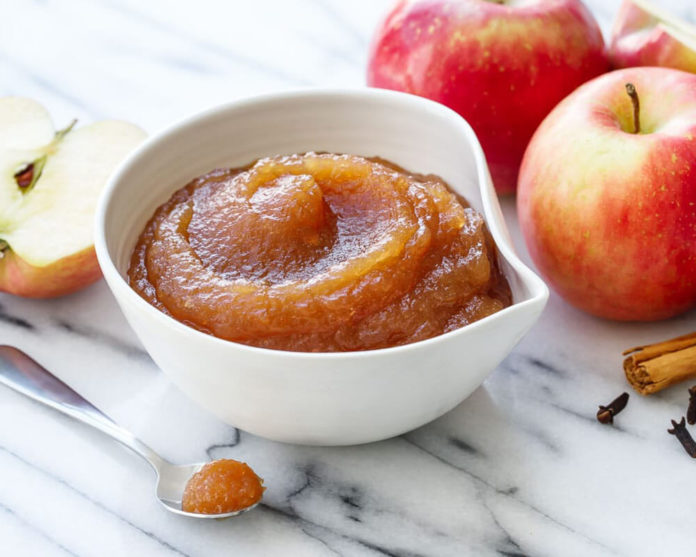 Loving the wrong person
We're all seeking that special person who is right for us, but if you've been through enough relationships, you begin to suspect there's no right person, just different flavors of wrong. Why is this? Because you yourself are wrong in some way, and you seek out partners who are wrong in some complementary way. But it takes a lot of living to grow fully into your own wrongness. It isn't until you finally run up against your deepest demons, your unsolvable problems – the ones that make you truly who you are – that you're ready to find a life-long mate. You're looking for the wrong person. But not just any wrong person: the right wrong person – someone you lovingly gaze upon and think, "This is the problem I want to have." – Andrew Boyd, Daily Afflictions.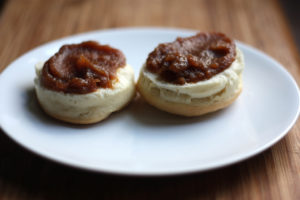 You know, I had this lovely post all worked out for our anniversary. I was going to post our recipe for apple butter because when my husband and I got married, we made apple butter for our guests. I figured they all probably didn't need another engraved-with-a-random-wedding-date-cheap champagne flute so we went for something practical. And our guests seemed to be happy with it – I actually saw several guests drinking it like a shot. Either we made a damn good apple butter or those guests were drunk. Probably both.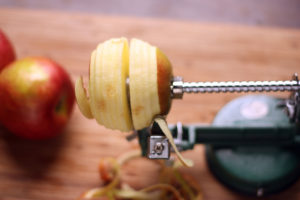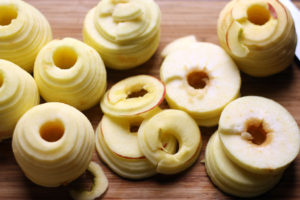 My husband and I have turned making apple butter into an anniversary tradition and I had this wonderful blog post idea about how marriage was like a jar of apple butter.  And it was so cute without being retch-inducing and I'm sure it would have totally gone viral in a major way and at this point in time, I'm sure one of Ellen's producers would have been calling me, asking me to make apple butter and be witty on her show.
Life has this funny way of getting in the way.  Instead of writing that post, we painted our bedroom blue.  And worked on code.
Why did we do this?  Because it had to be done.  My husband and I run an online shopping board and we're heading into what we refer to as crazytime.  We're getting over 200 non-spam emails a day and the posts on our site and traffic to it are going up.  We're also getting ready to make a MAJOR update in our board software and that's been causing us to tear our hair out,  especially since it has to be done before the week of Black Friday.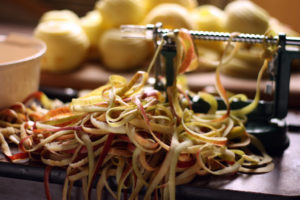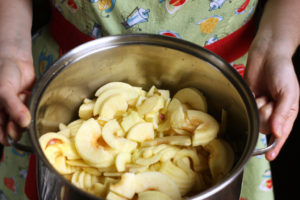 Add to this stress the fact that we're also in the middle of some pretty big home renovations.  We have this beautiful, big house and we've spent the last two years crammed into three rooms.  We made some progress a couple of weeks ago and got our office opened up but I'm jonesing to have our bedroom back.  Especially since I'm sick of our clothes being scattered to the four winds throughout our house.  And especially since we're working on a deadline and have to have a certain amount of our house finished by the time we re-finance.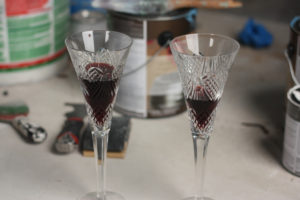 So instead of some swooningly beautiful prose about my husband, I'm going to say this.  I love him.  And the man drives me crazy. And I drive him crazy. And sometimes that crazy is even in a good way.  I would have rather been on a tropical beach, sipping on a frosty tropical drink while we lounged in the sun together.  Hell – I would have rather been hiking in the rain.  Instead, we painted our bedroom blue.  And I threw a hissy fit about not being where I wanted to be and being where I was.  And my husband waited for me to finish and then said he was going to finish painting the trim now. And I sighed.  And realized that where I was, was where I was.  And I was lucky to be there with the man that I was with.
So we ate cupcakes & drank red wine from our anniversary champagne flutes.  And painted.  But I still made apple butter.  And I had the problem I wanted to have.
The key to really good apple butter is really good apples.  Stayman Winesaps are my preferred apples for this.   If you're not sure what kind of apples to use, buy lots of different kinds and mix them.  Please understand that the measurements below are flexible on purpose.  There is no way for me to give you an absolute recipe for this – every batch of apples are different so you'll need to season this as you go.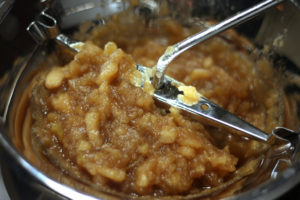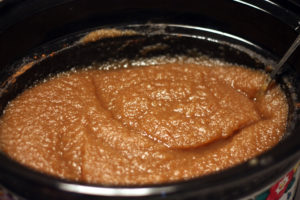 If I can get my hands on organic Stayman Winesaps, I simply quarter them and cook them with skins and cores.  This takes a lot longer to cook down and you can't do chunky-style applesauce this way but as long as you put everything through a food mill, this is my favorite way to make apple butter.  It's next to impossible to find organic Stayman Winesaps locally though so the method I have detailed below is the one I regularly turn to.
I don't like to keep a slow cooker going all night (and it's really not smart to do this while the apple butter is cooking down) so I start this on the stove, stick it in the fridge overnight and heat it back up again on the stove.  And then I pour the applesauce into the slow cooker to cook down.  Again – this is not something you can really leave because you need to leave the lid askew in order for it to cook down.  You're also going to need to scrape down the sides of the slow cooker every hour or so.
Anniversary Apple Butter
8 lbs apples
2 cups apple cider
1 – 2 cups packed dark brown sugar (my batch I used 1 1/2 cups)
Juice from 1/2 to 2 lemons (I used one lemon which was about 4 tablespoons of juice)
2-4 teaspoons cinnamon
Making Applesauce:
Core & slice apples.  Place in large saucepan with apple cider, one cup brown sugar and two tablespoons lemon juice.  Bring to a simmer over low heat and simmer for 2 hours or until apples are tender and falling apart.  Season to taste with cinnamon.  Correct the seasonings again – if the flavor seems a little flat, add more lemon juice.  Now you can eat this as applesauce or you take the next step and make into apple butter.
Making Apple Butter:
Put apple butter through a food mill.  You can also puree it in a food processor but I think the food mill gives it a really silky consistency you can't get anywhere else.  If this is cold, I usually heat it back up on the stove and then pour it into a slow cooker on low.  Make sure that the lid to your cooker is askew and cook for about 12 hours.  Make sure to scrape down the sides as it cooks.  Let most of the liquid cook out.  It will get very dark.  About 6 hours through cooking, taste and add any additional sugar or cinnamon that you think it may need.
Allow it to cool completely.  You can refrigerate this for up to three weeks or you can can it. To can, ladle hot apple butter into prepared jars, leaving 1/4 inch headspace.  Process in a hot water canner for 10 minutes.