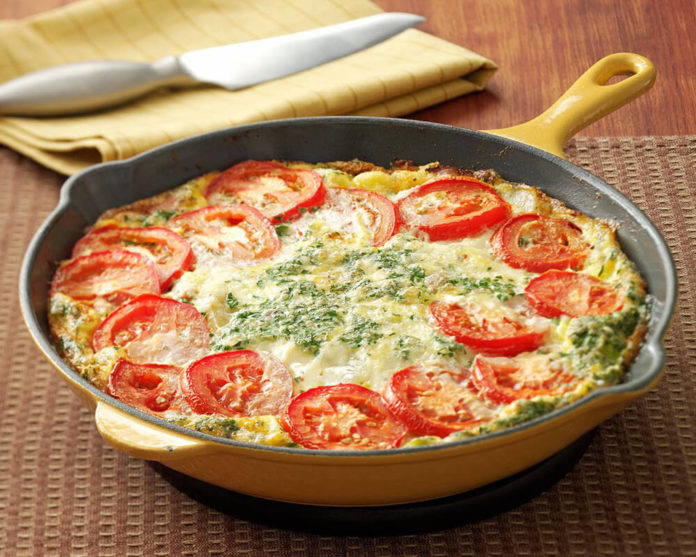 I am in love with this dish!  I've had frittatas before and I haven't been too fond of them. The eggs have always seemed tough and it just wasn't something that I found myself craving.  Yet, frittatas are one of the easiest ways to use up vegetable odds and ends.  And I have had a tortilla that was really good when I was up in Milwaukee a couple of summers ago.  So it's turned into a bit of a quest – I was going to find a frittata recipe I liked if it killed me.  Luckily, I haven't been killed by untasty egg-based dishes – instead, I found this recipe and on a whim, I tried it.  It's everything I hoped a frittata could be.  It's fairly easy. It retains the creaminess of the eggs and relies heavily on the vegetables in it to bulk up the recipe.  Plus cold leftovers of this are amazing!
Zucchini-Potato Frittata
serves 4-6
Recipe reprinted from Andrea Chesman's Serving Up the Harvest with permission from Storey Publishing
1 medium zucchini or yellow summer squash, sliced
Salt
4-5 tablespoons extra-virgin olive oil, or more as needed
1 1/2 pounds waxy potatoes, thinly sliced
1 large onion, halved and thinly sliced
1/4 pound smoked Canadian bacon or ham, diced
6 eggs
Freshly ground black pepper
1 cup grated Cheddar
1. Combine the zucchini and 1 teaspoon salt in a colander and toss well. Set aside to drain for 30 minutes.
2. Heat 3 tablespoons of the oil over medium-high heat in a large, well-seasoned cast-iron skillet or ovenproof nonstick skillet. Add the potatoes and onion, reduce the heat to medium-low, and cook, flipping and stirring occasionally, until the potatoes are soft, about 20 minutes. Increase the heat to medium-high and continue cooking, tossing occasionally, until the potatoes are are brown, about 5 minutes. Remove the potatoes with a slotted spoon but keep the skillet on the burner.
3. Transfer the zucchini to a clean kitchen towel and pat dry. Add the zucchini and Canadian bacon to the skillet and sauté over medium-high heat, until the zucchini is just tender, about 4 minutes. Remove the zucchini and Canadian bacon with a slotted spoon. Keep the skillet over the heat.
4. Beat the eggs and pepper to taste in a medium bowl until well blended. Fold in the potatoes, zucchini and Canadian bacon, and cheese.
5. Preheat the oven to 350°F. Add 1 to 2 tablespoons of the remaining oil to the skillet as needed to lightly coat the bottom. Pour in the egg mixture, reduce the heat to medium-low, and cook without stirring until the bottom is set, about 10 minutes.
6. Transfer the skillet to the oven and bake until the top is set, 5 to 15 minutes, checking every 5 minutes.
7. Place a serving plate on top of the skillet and carefully invert. The frittata should fall out of the pan. Cut into wedges and serve.
Sorry about the bad pictures – they should be improving soon. Marcus has started taking most of them with the macro feature on my camera and we're shooting them outside on our porch so we can get at much natural light as possible. This picture should be the last awful one!